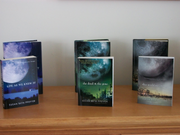 Welcome to the The Last Survivors Wiki
Edit
The Last Survivors wiki is an encyclopedia on Susan Beth Pfeffer's series. Also called the Moon Crash Trilogy, this series contains four books: Life as we Knew it, The Dead and the Gone, This World We Live In, and The Shade of the Moon.
The Last Survivors
Edit
The Last Survivors series is a sci-Fi written by Susan Beth Pfeffer, published by Harcourt. The first book was released in 2006, and the last in 2013. When a meteor hits the moon and knocks it closer in orbit to the earth, nothing will ever be the same. Worldwide tidal waves. Earthquakes. Volcanic eruptions. And that's just the beginning.
Anyone may edit this wiki, create necessary pages, edit them, become a member... This wiki is just getting started, but in time it will be of such value and integrity, that even the pessimistic person will deem it trustworthy. I am the site creator, RussetfurXTigerclaw, and this is my mission.
RussetXTiger 22:40, June 6, 2011 (UTC)
Latest activity
Edit
Ad blocker interference detected!
Wikia is a free-to-use site that makes money from advertising. We have a modified experience for viewers using ad blockers

Wikia is not accessible if you've made further modifications. Remove the custom ad blocker rule(s) and the page will load as expected.